Last update 10:00 | 27/08/2014
VietNamNet Bridge – The merchants at Dong Xuan Market, the longest-standing wholesale market in Hanoi, and domestic manufacturers are trying to come up with a solution to boost the sale of Vietnamese goods at the market.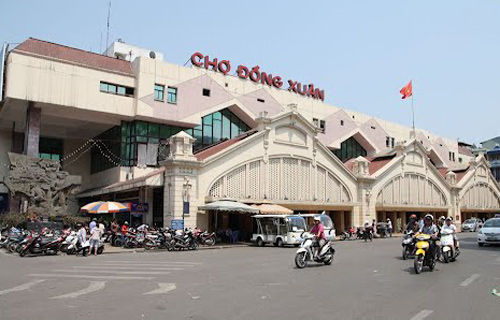 The Dong Xuan Market.
The Dong Xuan Market, familiar to every Hanoian, is the largest distributor of Chinese goods in the city.
A report of the market's management board showed that 80 percent of the souvenirs available in the market are sourced from China. The figures are 60 percent for clothes and fashion products, 80 percent for children's toys, 70 percent for leather products and handbags, and 60 percent for porcelain. No underwear products are sold.
Dinh Thi My Loan, chair of the Retailers' Association, admitted that covering the Dong Xuan Market with 90 percent of Vietnamese products was an "impossible mission".
"Chinese goods are very cheap, while Chinese businessmen, who understand Vietnamese consumers and merchants well, always offer high discounts and deferred payment methods," Loan said.
In fact, a merchant at the market said that she mainly distributes Chinese products. "We also want to distribute Vietnamese goods as well, if we can receive products from the manufacturers at original prices, but we cannot," she complained.
Big Vietnamese manufacturers like Viet Tien (garment), Tien Phong (footwear) and 8/3 Textile Factory, while having showrooms at many retail points, have not set up showrooms at Dong Xuan, a big distribution channel.
Nguyen Ngoc Phan, the owner of a sundries kiosk at Dong Xuan Market, said that Vietnamese manufacturers do not think they need to introduce their products to Dong Xuan's merchants.
Meanwhile, according to Nguyen Thi Dung, a footwear retailer, the merchants there "have been treated with consideration" by Chinese suppliers.
"They (Chinese businessmen) come to Dong Xuan to see the market and the kiosks themselves," Dung said. "They accept all orders from us, even if we only order two or three pairs of sandals. Meanwhile, domestic manufacturers only accept big orders with hundreds of pairs of sandals."
Nguyen Luong Duc, chair of the Phu Yen Footwear Craft Village, confirmed that he would rather display his products at supermarkets than at Dong Xuan Market.
"The merchants there only place small orders," he said. "Therefore, Dong Xuan is not our top priority."
A representative of a garment company said they had once tried to sell their products at Dong Xuan, but later "gave up the game" because of low sales.
"Hanoians believe that Dong Xuan Market is a place that sells Chinese goods only. Therefore, they do not go there if they want Vietnamese products," he said.
Vietnamese manufacturers continue to complain about slow sales. Vietnamese consumers complain they have to travel dozens of kilometers to reach Vietnamese goods' sale points. Meanwhile, Dong Xuan Market, a big distribution channel, is ignored.
Read more: http://dongtalk.com/forums/index.php/topic/14337-hanois-largest-wholesale-market-sells-mostly-chinese-goods/#ixzz3BcQA5pEZ