VietNamNet Bridge - Brothers Tran Kim Thanh and Tran Le Nguyen have been at the two top posts in Kinh Do Corporation since the company's establishment.
Kinh Do Corporation is a business group of Vietnam with an emphasis on food production, including baked goods, confections, snacks and soft drinks. The corporate group also includes companies in the fields of financial services, real estate and a retail bakery chain. Kinh Do Corporation manages a wide variety of brand names, distributes imported brand name snack and candy goods, and manufactures food for export from Vietnam. Main offices of the company are located in Ho Chi Minh City.
Absolute dominance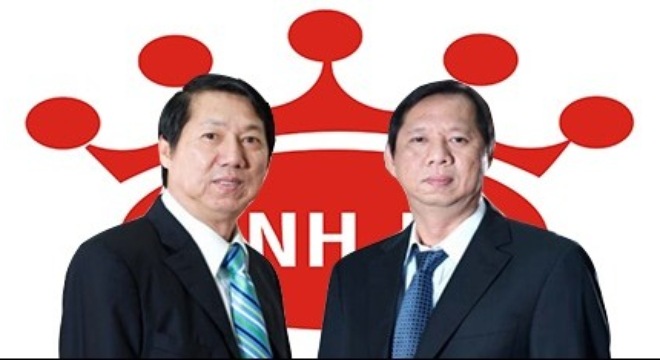 Brothers Tran Kim Thanh and Tran Le Nguyen.
For over 20 years, brothers Tran Kim Thanh and Tran Le Nguyen's positions at Kinh Do Corporation have not changed.
Thanh is still the corporation's Chairman while his younger brother is the Vice Chair and Chief Executive Officer. Another brother of Thanh, Tran Quoc Nguyen, is a member of the management board.
Thanh and Nguyen's wives – Mrs. Vuong Buu Linh and Mrs. Vuong Ngoc Xiem – are also members of the management board.
The dominance of the Tran family is more clearly as many other family members hold the positions of Vice CEO and chief accountant.
According to Kinh Do's report in 2013, Chairman Tran Kim Thanh and his wife owned only 130,000 shares, accounting for 0.08%, and 80,000 shares or 0.05% of chartered capital but his brother Tran Le Nguyen had up to 14 million shares, corresponding to 8.35%. Nguyen's wife also had 5.8 million shares or 3.45% of the chartered capital of Kinh Do. This woman is the corporation's Vice CEO and a management board member.
Recently, Kinh Do's business strategy changed.
The company has sold its shares to strategic investors or signed contracts worth hundreds of million of USD with new partners as PhinDeli, Vocarimex, and Saigon Vewong to enter into new business fields.
With the new policy, the Kinh Do "pie" will certainly be further divided. However, it is certain that the influence of the Tran family will not change.
The "big boat" is changing direction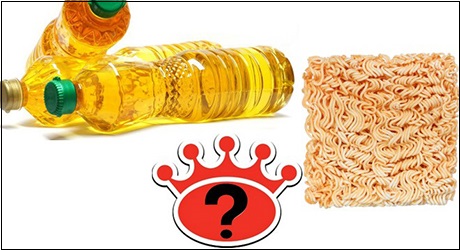 With more than 200,000 retail outlets and accounting for 30% of the market share, Kinh Do is the largest domestic confectionery producer in the country.
In 2013, it earned VND4,560 billion of turnover, 1.6 times over the total revenue of the three local confectionery producers ranking behind Kinh Do in the market - BIBICA, Huu Nghi and Hai Ha.
However, the ambition of brothers Tran Le Nguyen and Tran Kim Thanh is bigger as they are enter the food industry.
The plan to engage in coffee, instant noodles and cooking oil will need a lot of money. Therefore, cooperation with other giants may be a good choice for the Tran family.
In early 2014, Kinh Do issued 40 million shares to increase its chartered capital to VND2,000 billion, earning VND1,700 billion in cash, in order to serve the expansion strategy.
At the extraordinary shareholders' meeting in late 2014, Kinh Do approved the sale of 80% of its capital in confectionary segment and the remaining 20% may be sold within the next 12 months for foreign investors.
Specifically, Kinh Do sold 80% stake in confectionery segment to American partner Mondelez International Group, equivalent to $370 million.
Mondelēz International, Inc. is an American multinational confectionery, food and beverage conglomerate, employing around 107,000 people around the world. It comprises the global snack and food brands of the former Kraft Foods.
With this decision, Kinh Do withdrew from the confectionary market after 20 years.
Kinh Do immediately announced plans to use the money gained from the deal: spending nearly $25mil. to buy a 27-percent stake in the Vietnam Vegetable Oil Industry Corporation (Vocarimex).
The successful transaction brought Kinh Do's stake in Vocarimex from 24 percent to 51 per cent. Currently, Kinh Do has three representatives in Vocarimex's managerial board: Tran Kim Thanh, Tran Le Nguyen and Nguyen Thi Xuan Lieu. Thanh is the chairman of both companies.
In its initial public offering last July, Vocarimex sold 37.9 million shares at VND13.428 ($0.6) per share to five organisations and 42 individuals. At present, the State holds 36 per cent of the organization's charter capital, while the corporation's staff holds 0.88 per cent. Meanwhile, two strategic shareholders, Kinh Do and VPBank Securities, hold 24 and 8 per cent respectively. The remaining 31.12 per cent stake belongs to other investors who bought shares in the corporation's initial public offering.
Data from Ban Viet Securities Company revealed that Vocarimex possesses 51 per cent of Tuong An Vegetable Oil JSC, 49 per cent of Nha Be Golden Hope Cooking Oil Company, 32 per cent of Cai Lan Vegetable Oil Company and 27 per cent of Tan Binh Vegetable Oil SJC.
Most recently, Kinh Do inked a cooperation deal with Saigon Vewong, a Taiwanese company specializing in the production of food.
Under the agreement signed in early May, the two sides will build a US$30 million plant at the Vietnam Singapore Industrial Park in the northern province of Bac Ninh to develop new noodle varieties and also produce Kinh Do's products.
Ve Wong now produces Kinh Do's products at its HCM City plant, but its current capacity, which KDC refused to disclose, is not enough to meet demand.
Kinh Do executives said their first instant noodle products hit the market five months ago and had become very popular with consumers. The company will hold a 49 percent stake in the new plant and Saigon Ve Wong, 51 percent.
It will have a capacity of 6 million packets of noodles a year initially, when it will produce only instant noodle and spices, before doubling it in the second phase when it will also make instant porridge and other kinds of instant noodles like pho. It will make other instant foods in the third phase and sauces in the last.
Kinh Do said more plants would come up in other locations as part of its efforts to become one of the top three instant noodle producers in the country.
Saigon Ve Wong is known in Vietnam for many instant products it sells under the Aone brand name.
$1 = VND21,500
Tran Kim Thanh's family started out in the 90s and built Kinh Do into the leading brand in the confectionary market of Vietnam. In 2013 this corporation earned turnover of more than VND4,500 billion and VND619 billion of profit. Kinh Do accounted for a large market share in almost all confectionery product lines, such as biscuits, cakes, bread and ice cream.
After listing the company on the stock market in 2005, Kinh Do joined hands with many partners, such as investing in Tribeco (2005) and Nutifood (2007) and acquiring Vinabico (2008). In 2012, Ezaki Glico (Japan) spent VND660 billion to buy a 10% stake in Kinh Do. However, not all deals were successful. Kinh Do accepted losses in Tribeco and Nitifood while the Japanese partner withdrew from Kinh Do. The most successful deal was the acquisition of Wall's ice cream factory of Unilever in 2003.
In the field of real estate, Kinh Do invested VND1,015 billion to own 50% of the project Lavenue Crown in HCM City. But after years, this 5-star complex has yet to kick off.
According to the management report in the first six months of 2014, Thanh's family held approximately 26% stake in the company.
Apart from Kinh Do, Thanh and Nguyen are also members of the management board of Thien Long Company, as representatives of Kinh Do. Thien Long is a stationery company with the market value of more than VND1,400 billion.
Read more: http://dongtalk.com/forums/index.php/topic/29220-vietnam%E2%80%99s-%E2%80%9Cchaebols%E2%80%9D-tran-brothers-rule-kinh-do-corp/#ixzz3dA6PfTrf