Cabinet meeting: economy on track
Last update 09:34 | 31/07/2014
Positive signs continued in July for the country's socio-economic development, the Ministry of Planning and Investment told a regular cabinet meeting which opened in Ha Noi yesterday.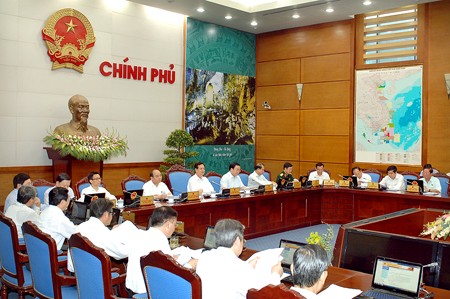 In a report delivered at the meeting, the ministry noted that inflation remained under control and that the consumer price index had experienced modest growth. Interest rates, foreign exchange rates and local markets were stable, while exports and services achieving strong growth.
The country had also seen a trade surplus of US$1.26 billion in the first seven months of this year.
The disbursement of capital sources including foreign direct investment (FDI) and official development assistance (ODA) was steady at $6.8 billion, an increase of 2.3 per cent on the same period last year.
Meanwhile, the industrial sector, particularly the manufacturing and processing industries, continued its recovery, the report said. Industrial production saw a 6.2 per cent increase this year compared to the same period last year.
Prime Minister Nguyen Tan Dung asked cabinet members to discuss major issues relating to the restructuring of the economy, GDP growth, the macro-economy and measures to streamline business operations, while eyeing the same goals set for 2014.
Among the targets set for 2014, Viet Nam hopes to achieve gross domestic product (GDP) growth of 5.8 per cent and keep inflation at 7 per cent.
The country is also targeting a 10 per cent increase in exports, including a trade deficit of 6 per cent of total export revenue. The country is also hoping to meet a social development capital ratio of 30 per cent of GDP, a reduction in household poverty of 1.7-2 per cent, and create 1.6 million new jobs.
Dung also asked them to come up with solutions to achieve the target of 5.8 percent GDP growth for the year and to remove difficulties for businesses.
In addition, he urged relevant ministries and agencies to work together to ensure the safety of over 1,500 Vietnamese guest workers in Libya.
During the two day meeting, Cabinet members will also debate draft laws on a special consumption tax, labour hygiene and safety, maritime and island environments and resources, and military service.
Read more: http://dongtalk.com/forums/index.php/topic/14129-cabinet-meeting-economy-on-track/#ixzz3954HJDkk