Police discovered first male prostitution ring in Saigon

Last update 12:21 | 22/05/2013
VietNamNet Bridge - According to VietNamNet's sources, by May 20, HCM City police arrested nearly 40 people who were involved in a male prostitution network. This is the first large-scale male prostitution ring detected in HCM.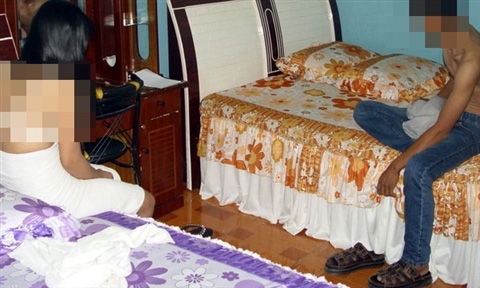 On May 19, HCM City police and social-cultural inspectors performed an unexpected administrative check at two hotels in District 5 - VA Hotel on Hong Bang Road, Ward 1 and HN Hotel on Nguyen Chi Thanh Street, Ward 12.
At VA Hotel, the authorities caught in the act two women with two young prostitutes. The male prostitutes confessed that they were paid VND300,000 ($15) each.
At HN Hotel, the authorities caught five pairs of prostitution, including a homosexual prostitution case.
The case was transferred to the Criminal Police Department of HCM City for further investigation.
In addition to 14 people who were caught in the act of prostitution, the police arrested more than 20 others who involved in this male prostitution ring.
This is the first large-scale male prostitution in the city. The police said they will thoroughly investigate to report to the Board of Directors of HCM City Police Agency.
Dam De
http://dongtalk.com/forums/index.php/topic/11012-police-discovered-first-male-prostitution-ring-in-saigon/