02/09/2014
VietNamNet Bridge – Local experts have more grounds to believe that the Government's target of curbing inflation at 6-7% this year is achievable given a slight consumer price index (CPI) rise this month as announced by the General Statistics Office (GSO).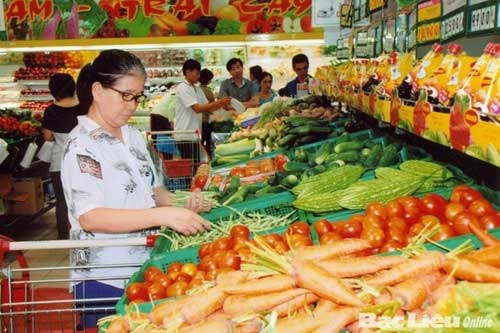 Le Dang Doanh, former head of the Central Institute for Economic Management (CIEM), said aggregate demand remains low while industrial goods stockpiles are high and retail sales are lower than in the previous year due to weak purchasing power.
In addition, the nation has posted a low credit growth rate in the year to date. Fuel price drops in the world market have led to gasoline price cuts in the country but shipping charges, goods and service prices have yet to follow suit.
Therefore, low inflation has brought about positive signs but reflected a stagnation of the economy, Doanh told the Daily after GSO put the national CPI growth at 0.22% this month against the previous month and 4.73% over the same period last year.
Doanh projected inflation would stay at around 5.5% this year given no sudden changes in credit growth and global oil prices.
Dinh Tuan Minh from the National Institute for Science and Technology Policy and Strategy Studies said CPI usually goes up slightly in September and October and fluctuates strongly in the last two months of a year. This year, the nation's CPI is expected at around 5%.
It is a good sign for Vietnam to maintain inflation at 5-6% after running high inflation in many years. "This supports macro-economic stability and structural reform," Minh said.
This month, the national CPI has increased by a mere 0.22% against July and only 1.84% over late last year, according to GSO. This month's CPI rise is the lowest level recorded for August in the past nine years
Do Thi Ngoc, deputy head of GSO's CPI Department, said as numerous factors have curbed price increases this month.
The world prices of numerous essential goods remained stable or declined while domestic petroleum prices decreased thrice in nearly a month since July 18, Ngoc was quoted by Vietnam News Agency as saying.
In August, there are month-on-month decreases of 0.16% in fuel prices, 0.15% in public traffic service prices and 0.31% in housing and building material prices.
Meanwhile, food costs and restaurant services are up by 0.45% from the previous month due to higher rice demand for export. Rice exporters in the south have increased rice purchases to fulfill their contracts amounting to two million tons.
Festivals in August and rising breeding costs have caused food prices to go up by 0.54%, and greater demand for clothes, shoes and school materials also pushed up the prices of garment and footwear products by 0.32% beyond the new school year.
Gold prices have declined by 0.34% month-on-month and by 0.06% year-on-year. The U.S. dollar likewise fell by 0.26% month-on-month and 0.07% year-on-year.
Read more: http://dongtalk.com/forums/index.php/topic/14350-experts-inflation-target-obtainable-this-year/#ixzz3CC8cDRpW