Last update 12:04 | 26/01/2015
VietNamNet Bridge – Foreign investors' excess of sales over purchases in the stock market have been attributed to the appreciation of the US dollar.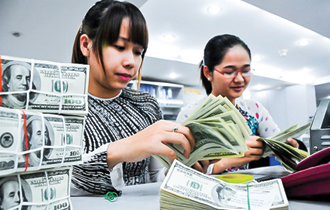 Analysts, reviewing the ups and downs of the stock market in 2014, discovered that foreign investors usually helped to increase sales when the dollar price rose in value.
Though foreign investors' trading value accounts for a small percentage of the stock market's trading value, their decisions always have an impact on the stock market because they affect domestic investors.
Domestic investors fear that foreign investors will withdraw their capital to make money from the greenback appreciation. If so, foreign capital flows to the stock market will fall sharply, they believe.
The problem is that the dollar has been appreciating rapidly within a short time.
The US Dollar Index, which is used to measure the dollar against six other hard foreign currencies, increased by nearly 13 percent in the months from July to December 2014.
The sharp increase in the greenback value showed the strong recovery of the currency after years of fluctuations due to the unstable US economy.
The impressive return of the greenback is attributed to the strong recovery of the US economy.
The US GDP grew by 5 percent in the third quarter of 2014, the highest growth rate in 11 years.
The labor market has warmed up with 400,000 new jobs created in October and November, according to an ADP report.
Meanwhile, the European economies are still in significant difficulties, while the European and Japanese central banks decided to loosen monetary policies. This paved the way for the US dollar to rise.
Foreign investors in Vietnam reportedly sold more than they bought by VND3.6 trillion in August to November, while they bought more than they sold in the first seven months of the year.
The capital flow to Market Vectors Vietnam ETF (V.N.M) also reportedly decreased sharply in the third quarter, while $52 million was disinvested in the fourth quarter, according to IndexUniverse.
Analysts, while noting that the foreign investors' moves depend on many other factors including the oil price fall and the year-end portfolio restructuring, said the dollar price hike was still an important reason.
They noted that in 2013, when the dollar price fluctuated with no clear tendencies, foreign investors still bought more than they sold by VND6.8 trillion, despite a bad macroeconomic performance for the year.
In other words, when the US economy had yet to recover and the US dollar was still weak, investors found it attractive to pour money into markets like Vietnam, where they expected high yields.
But as the dollar has recovered, they have sold assets not valued in US dollars to invest in the greenback.
Read more: http://dongtalk.com/forums/index.php/topic/16363-foreign-capital-flows-to-stock-market-may-slow-on-dollar-appreciation/#ixzz3PxRyE0l4